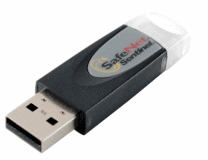 Sentinel Hardware Key (SHK)
by SafeNet Inc. is a second generation key. It was created as a replacement for the old
Sentinel SuperPro
model, a first generation key with compromised secret algorithms.
Made in China. Plastic corpse. Dimensions are 55x16x8 mm. Gray "SafeNet Sentinel" sticker may be replaced with a self-designed one. Free space for extra vendor information on back side.
Compare to the SafeNet Sentinel SuperPro model SHK got
New key design you may see on the image above.
Internal memory size up to 4Kb.
Simple file system memory structure.
Real Time Clock (RTC) as optional feature.
Standard ECDH algorithm for common key generation.
Communication channel protected with AES.
Standard AES algorithm for Encrypt/Decrypt operations.
Standard ECDSA algorithm for Sign/Verify operations.
New Application Programming Interface (API).
Java-based SDK tools for developers.
New improved envelope for programs automatic protection.
Features are very similar to a WIBU CodeMeter, but implementation absolutely different. Anyway, both keys are weak to record-and-playback attacks because of predictable behavior.
SHK dongle backup tools (SHK dongle memory dumper, SHK emulator and others) have been developed by our specialists. SHK data collection tools (dumper) is absolutely free. So, do not waste the time and backup your key now. Follow the instruction to backup public key data or send a free-form request to get the instructions for backup protected memory data. At the current moment no known ways to backup secret data, so SHK emulators are version specific. Also called "table-based" or "table-driven". It is typical for the second generation keys.
Check our SHK dongle software compatible list to see if your software already tested with our SHK emulator. Or use contact form to ask for dongle emulator compatibility test.